MBBS in Russia for International students
Consultant
Russia is a country that is situated in both Eastern Europe and Asia. Russia is often known as the Russian Federation. Russia is the world's largest country and is around 1.8 times bigger than the United States of America. Russia's capital is Moscow.
Since the Nineteenth century, Russia has been a popular choice for MBBS in Russia for Pakistani students wishing to pursue an MBBS. Russia is gratified with its presence in the top 100 medical universities, holding nearly 30 spots.
In terms of medical education, Russia might be credited with the discovery of MBBS abroad possibilities.
Higher education in the categories of medicine, engineering, commerce, and management is offered by Russian Universities to international students from all over the world. Graduates of Russian medical students are currently employed by the top hospitals everywhere in the world. To read MBBS in Italy click here.
MBBS in Russia Key Facts

Country

Russia

Teaching Language

English

Top Universities

· Orenburg State Medical University.

· Tver State Medical University.

· Smolensk State Medical University.

MBBS Course Duration

06 years

Average Application fee

30$ to 100$

Minimum education required

12 years of schooling leaving certificates

Average fee structure

2500$ to 3500$ per year

Is IELTS required or not?

IELTS not required.

Entry Test

No

Eligibility criteria

65% to above for MBBS

Scholarships

No

Part-time job Working hours

20 Hours per week

After study work permit

Yes

Embassy location

Islamabad

Bank statements

5000$

Average monthly expense

150$ to 300$

Admission processing time

Between one to two months after deadline

Visa processing time

one month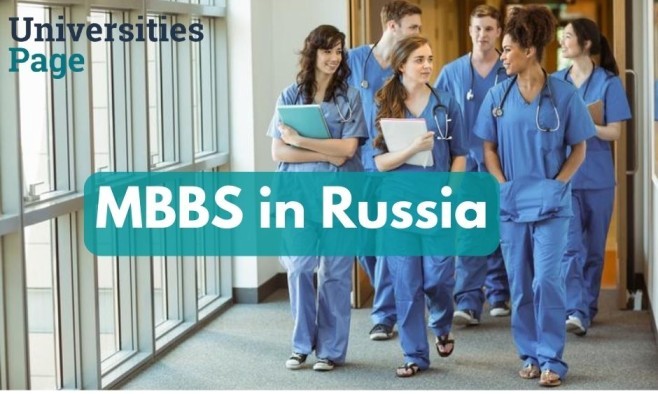 MBBS benefits for Pakistani students in Russia
One of the biggest possibilities for obtaining an MBBS abroad is to study in Russia. Because it offers high-quality instruction at a reasonable price.

Studying MBBS in Russia is growing in popularity among Pakistani students.

Because any student from anywhere in the world can apply for direct MBBS Admission without taking an entrance exam.

Medical study in Russia is fairly simple for an average student. Students from all around want to study in Russia, ranked as the eighth-best study location.

Top Russian medical universities currently hold about 30 spots in the global rankings of medical universities.

In Pakistan, there is a big potential for MBBS graduates, hence graduates from Russian universities are in more demand than graduates from Pakistani universities that offer MBBS.

Foreign students can study MBBS at very reasonable tuition rates at Russian medical universities. In Russian medical universities, there are currently over 10,000 Pakistani students enrolled in MBBS programs, with these numbers rising each year.

Russian universities and colleges are certified by the WHO and PMC Pakistan, and an MBBS from a Russian school is approved in Pakistan. Russia's MBBS syllabus is equivalent to that of medical universities in Pakistan. Students who pass the MBBS exam in Russia are therefore qualified to take the PMC screening test in Pakistan.
Therefore, never resist the opportunity to study medicine in Russia if you have the chance.
Benefits of MBBS in Russia for international students
Easy admissions procedure.
No entrance exam.
Low and affordable course fee:
The low expense of medical education in Russia is one of the main reasons why studying MBBS there is so popular among Pakistani students. Finding high-quality education at an affordable price is really difficult, but Russia offers the convenience of supported fees.
Globally recognized degree: All the Medical Universities of Russia offer medical degrees (MBBS), that are globally recognized,
Affordable Cost of Living: If you're a Pakistani student or parent, you probably worry a lot about the university's living and dining options. For students, living in Russia is quite affordable and hardly puts overcome the drawbacks on your finances.
Excellent Result in PMC Screening Test.

References of Students Working at World-Class Hospitals are Available (our graduates are employed not only in Pakistan but also in Australia, Canada, the United States, the United Kingdom, and other important nations).

100% Visa Guarantee.

All of the institutions are Russian government universities.

Russian medical education is entirely taught in English.

After passing the screening test, foreign graduates are eligible to practice in their home countries.

Students from Pakistan may easily find Muslim food in Russia.

In Russia, it is simple to locate homestay lodgings for students. If international students prefer not to reside in a hostel, they can rent an apartment.
Disadvantages of studying MBBS in Russia
In Russia, the native tongue is Russian. As a result, communication difficulties may arise outside of the university. The Russian language must be learned by international students while doing MBBS in Russia.
In truth, applying for a Russian visa is a little too time-consuming. After the documents are submitted to the embassy, the complete process takes more than two months.
It's always freezing in Russia. Therefore, Pakistani students may find it challenging to adjust.
The Russian medical curriculum runs the risk of making students lazy because pupils are not under pressure in Russia or other European nations.
Required documents for MBBS in Russia
You can apply to be a candidate from Pakistan if you want to study MBBS in Russia.
Candidates need not be older than 25 years old.

You must have an HSE certificate in order to apply for undergraduate study programmes.

Each applicant must also receive 60% of the FSC result.

You can definitely study MBBS in Russia if you are in good health and have been given the go-ahead by the authorities overseeing the MBBS study programmes there.

To enrol in Russia's MBBS study programmes, all Pakistani academic certifications must include both their matriculation or "A" level as well as their FSc pre-engineering certificates.
Living cost in Russia for Pakistani students
Living in Russia typically costs 200 US Dollars (32000 Pakistani Rupees) per month, without tuition fees. Typically, a student can use this amount to cover food costs and some additional expenses.
Because Russia has the lowest fee structure and affordable cost of living, it becomes the right choice for MBBS aspirants. You need to have a budget between $100 and $150 a month for food and other personal expenses in addition to tuition fees. Major Russian cities have slightly higher living costs. Russia is not as expensive as you may imagine.
Given that Russia enjoys a good reputation for the high quality of its medical education. Any student from Pakistan can easily gain direct admission to the best medical schools in Russia. To read about MBBS in China click here.
Cost of study MBBS in Russia for Pakistani students
The cost of renting a room in university dorms is relatively inexpensive in Russia, saving you money for a larger spending budget for MBBS tuition than it is in Pakistan.
As a result of the Russian ruble's economic worth is nearly identical to that of the Pakistani rupee with a minor change, student living expenses are essentially unchanged from Pakistan.
A typical student can afford to pay the tuition fees for an MBBS programme at a Russian medical school.
Due to government subsidies, studying medicine and surgery (MBBS) in Russia is an economical option for Pakistani students.
The lowest cost for MBBS education abroad is the average annual tuition for MBBS in Russia, which is 4000 US Dollars = 6,49,000 Pakistani Rupees.
More and more Pakistani students are choosing to study medicine in Russia due to the low cost of the programme and low living expenses.
Medical universities in Russia for Pakistani students
Here are some medical universities in Russia for Pakistani students with their fee structure and service provided to students.
1. Tver State Medical University, Russia
The total amount is $10000 per year.
It includes:
This fee package covers the cost of tuition.

Residence in a hostel.

Compensation for the center.

PMC coaching for the full course.

Transportation from the airport to the university.
2. Mari State University, Russia
The total amount is 11000 USD paid by students to the university.
It includes:
Residence.

Medical insurance.

PMC coaching for complete course.

Free translator to help.

Study materials in English.
3. Kuban State Medical University
The total amount for MBBS is 12000$ per Year which is paid by students to the University.
It includes:
Tuition fee.

Medical insurance.

Residence.

Transport the airport to the university.

Call the students ' parents upon arrival.

Free translator.
4. Siberian State Medical University
The total amount for MBBS is 1400$ per Year which is paid by students to the University.
It includes:
Tuition fee.

Residence.

PMC coaching.

Free translator.

Study materials in English.
5. Orenburg State Medical University, Russia
The total amount for MBBS is 3600$ per Year which is paid by students to the University.
It includes:
Tuition fee.

Residence.

Transport airport to the university.

PMC coaching.

Medical insurance.

Study materials in English.
6. People's Friendship University, Russia
The total amount for MBBS is 13300 USD per Year which is paid by students to the University.
It includes:
Tuition fee.

Residence.

Medical insurance.

Free translator.

Study materials in English.

PMC coaching for the entire course.
Duration of MBBS in Russia
According to European standards, the MBBS programme in Russia lasts six years, including one year of internship and five years of academic study. Students study the theoretical side of medicine for the first three years, while the last three years are spent improving practical abilities. The course is divided into two semesters for each year, giving the student a total of 12 semesters.
Teaching language for MBBS in Russia
International students can study MBBS in English at some recognized medical schools in Russia. You don't have to submit your TOEFL or IELTS scores in order to get enrolled in a Russian medical university that offers English-taught courses. Direct entry into the English-medium MBBS programme in Russia is available to those who have finished high school or college with English-related course material.
Admission process for MBBS in Russia
Simply follow our advice, and you'll soon be accepted into one of the Top Medical Universities.
Complete the application form.

Submit your educational qualifications, including your X and XII grade reports (educational certificates), , and two passport-size photos.

Passport: Students typically believe that they will be unable to register if they do not have a passport. This is untrue; even without a passport, you can still register yourself.

The students will then get their admissions letter from the university of their choice.

Students must apply for a "Visa Invitation Letter" for which you need the following:

Passport.

photographs the size of a passport that has a white background.

medical fitness certificate.

Obtaining a visa stamp completes the admissions procedure.

Complete the moving parts, pack your bags, and get ready to fly to RUSSIA to pursue your medical academic goals!
Career Opportunities for Russian MBBS Graduates
Yes, there are obviously a lot of future opportunities for Pakistani students with Russian MBBS degrees. How? Here is your response, which we have chosen as one of the top choices for you:
Practice in Russia: this is a smart choice for practice. You can practice there or choose to study post-graduation after earning your MBBS in Russia. This choice is preferred by many applicants as a professional choice.
USMLE certification: The Federation of State Medical Boards (FSMB) and the National Board of Medical Examiners (NBME) support the USMLE as a professional examination (NBME).
You may take this exam after completing your MBBS from Russia in order to work in the US. Only you will be qualified to practise in the US after completing your post-graduation, whether it was earned abroad or in the US.
Practice medicine in the UK: International medical graduates (IMGs) can use the Professional and Linguistic Assessments Board (PLAB), a two-part evaluation process run by the General Medical Council of the UK, to demonstrate that they possess the skills and knowledge required to practise medicine in the UK. IMGs from outside of Switzerland and Europe must pass this exam in order to lawfully practise medicine in the UK.
You must hold a primary medical degree from a school that is listed in the World Directory of Medical Schools in order to take this exam.
Settling in Germany: it will truly be a wise choice among all of the nations in Europe. because it is a well-known center for higher education and because living costs are low. Additionally, many students who study medicine in Russia use German and complete the language test. so that after finishing your degree, you can establish yourself in Germany.
Hospital management: currently offers job choices for students with a degree in medicine and is a rapidly rising industry. After receiving their MBBS from Russia, students also pursue Masters degrees in hospital management.
To get a free assessment for MBBS in Russia for Pakistani students and fee structure, you can contact us below.
Contact Us
Phone/Whatsapp: 0333 0033235
Phone/Whatsapp: 0324 3640038
Facebook:https://www.facebook.com/Italyvisaconsultant
Instagram:https://www.instagram.com/universitiespage_official/