MBBS Degree in China
Whenever it comes to mind about MBBS in china consultants in Pakistan, Students and parents first choice is Universities Page company which is working with Chinese universities since 2014. Universities page head office is located in Beijing China, with the franchise in Pakistan, and Thailand.
Let's start to know more about Chiniese universities and their fee structure.
In recent years education level of Chinese universities has grown to a high standard. Chinese universities have increased their standard at the very top. For Example, Tsinghua University is ranked at 28 in the world ranking and top 1 in China. To check MBBS in Italy CLICK HERE.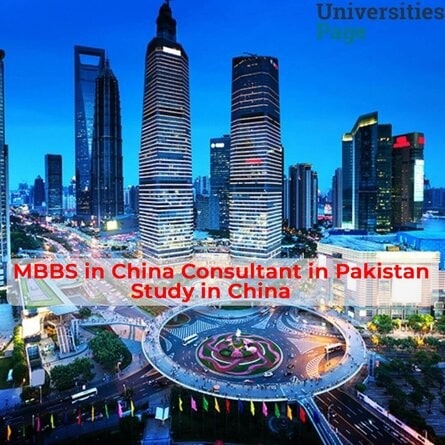 Why China?
Why go to high education in China? this is the most common question that comes to mind whenever we think about education in China. The simple answer is the low fee structure of Chinese universities and high education and research standards.
The fee of Chinese universities is low compared to other countries universities.
High-quality education.
English Taught Programs.
World top research laborites.
Easy to get admission.
Without the IELTS exam.
Easy visa process.
What are the most popular universities?
There are several universities in China that are offering Professional doctor degree but some poplar universities are as follows.
SHIHEZI UNIVERSITY

JINING MEDICAL UNIVERSITY

SHENYANG PHARMACEUTICAL UNIVERSITY

SHANGHAI UNIVERSITY OF TCM

CHINA MEDICAL UNIVERSITY

WENZHOU MEDICAL UNIVERSITY


Fee structure
The fee structure of each university is different, it varies from university to university and city to city. The Average fee for MBBS is as following.
Application fee: 100$ (15000 PKR)
Tuition Fee: Start from 4000$(628000 PKR) Yearly.
Hostel:500$(78500 PKR) Yearly.

Insurance Fee:

50$(8000 PKR) Yearly

Medical Examination fee:

25$ (4000 PKR) Yearly

Residence Permit Fee

:

25$ (4000 PKR) Yearly

Living cost:

100$ (15000 PKR) yearly
Each year admissions are open in March and September for international students. Students and parents can consult us about the admission process and fee structure. In case, if the student is living in another city and cannot visit us physically, they can simply start their process by phone/online also. If you are looking for the best MBBS in china consultants in Pakistan- Study in China it would be your best choice ever.
Contact Us
Phone/Whatsapp: 0333 0033235
Phone/Whatsapp: 0324 3640038
Facebook:https://www.facebook.com/Italyvisaconsultant
Instagram:https://www.instagram.com/universitiespage_official/